Translation Montreal:
Language Diversity Is Your Gateway to Having a Successful Inclusive Business
In the past couple of years, a lot has been said and written about Diversity, Equity, and Inclusion (DEI). 
In 2022, a shift was made from DEI to DEIB: Diversity, Equity, Inclusion, and Belonging. 
And while these terms can appear very abstract and are starting to feel overused, they are of utmost importance at their core.
Not only to the people that they are designed to include, but also to those who still turn a blind eye to them.
Why? 
Because study after study has found that diverse teams are more productive. 
The more diverse your company is, the greater its success will be. It really is that simple.
Translation Montreal: Why should you want an inclusive business?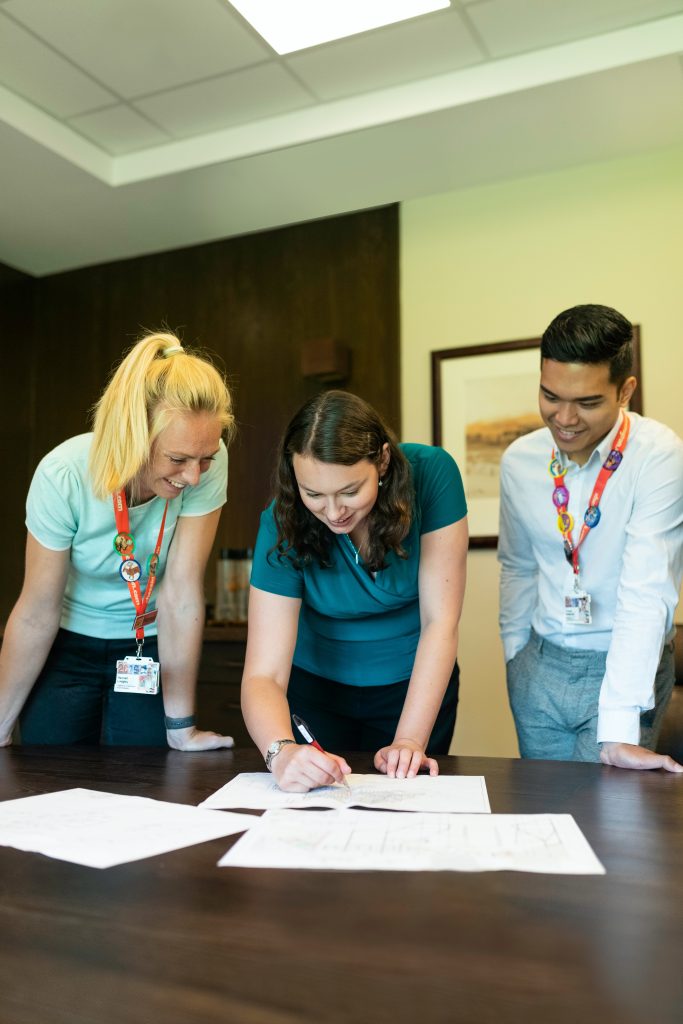 First things first: I am not a DEI / DEIB expert, and I am not attempting to position myself as such.
My professional interest pertains to language diversity, which is one of many aspects when looking at DEI. 
Language diversity has many facets, one of them being the presence of more than one language in a business setting. 
As a certified translator, the written word is the tool I use to help companies by fostering this specific aspect of diversity that often gets overseen. 
At the end of the day, multilingual documents help your company become a more inclusive business.
Let's dive into it!
Translation Montreal: Language diversity by the example of Montreal.
In a nutshell, language diversity means that there are many ways in which people can speak and communicate with each other. 
Living and working as a certified translator in Montreal, language diversity is part of my daily routine.

Firstly, it must be mentioned that French is the official language of the Province of Quebec. 
And according to the Montreal Constitution of Municipality, Montreal is a French-speaking city.  
When doing business in Montreal and Quebec in general, it is of utmost importance to respect the requirements of Bill 96, a legal framework that expands the French language requirements in fields such as commercial contracts, hiring, etc. 
Understanding and applying French language protection rules is key, as non-compliance with Bill 96 can trigger high fines. 
That being said, Montreal's language landscape remains multi-faceted. 
According to the 2021 Census published by Statistics Canada, 80% of workers in Montreal are at least bilingual (69% English–French bilingual) and 28% are at least trilingual—by far the highest proportions among Canada's large urban centres. 
In the Montréal CMA, 70% of workers primarily used French at work (compared with 73% in 2001), 21% primarily used English (versus 19% in 2001) and 8% used English and French equally.
Hence, Montreal is a French-speaking city and an example of language diversity at the same time. 
The active use of two (or more) different languages, in the case of Montreal, primarily English and French, is what first comes to mind when we speak about language diversity.

For many people, it ends there. But there is more to it. 
It can also mean how frequently a particular language is used and the density of language use in a particular area.

And while language diversity entails cultural differences, it is not the same as cultural diversity.

Culture encompasses a way of life that involves language and other aspects of life, such as food, tradition, religion, beliefs, etc.
In other words, language is a part of culture, and culture goes beyond language.
Translation Montreal: Why is language diversity important to have an inclusive business?
Language diversity fosters overall diversity. And diverse management outperforms less-diverse management.
The title of a recent study from February 2023 conducted by the Boston Consulting Group hits the nail on the head: 
Inclusion Isn't Just Nice. It's Necessary.
And since language diversity is one aspect of diversity, it cannot be ignored in your overall DEI strategy. 
This goes especially for employers located in a place with a high degree of language diversity, such as Montreal.
Interested in discussing your translation requirements?
Translation Montreal: Language diversity and translation in HR.
All HR departments know that finding the right talent for their company is a difficult endeavour. 
To start with, you want to ensure that your employees know they are not only numbers, and that they are valuable to your company. 
As an international company or a company located in a diverse environment, offering accurate translations employees can fully understand goes a long way. 
Employees will feel far more connected to their employer if they are spoken to in their native language, and if they have access to documents they can understand.
This is especially relevant in the context of business expansion. 
Let's shift away from Montreal for a second and say you want to expand your US or Canadian business into the German market.
Surprisingly to many, Germany, unlike Quebec, does actually not have any statutory language requirements in place. You can provide legal and other documents in English. Though, in case of litigation, the courts will request official German translations.
However, that doesn't mean that the German language should be ignored. Retaining the right employees is much easier if they're spoken to in their native language, in this case, German. Especially if they live and work in their country of origin, in their native language.

Going back to our Montreal example, it is, of course, not feasible to translate documents into every single language anyone speaks at your workplace. The vast number of languages spoken in Montreal makes this impossible, and also, unnecessary in most cases. 
Depending on your place of business and if there is a dominant language at your workplace, such as Spanish in a US context, policy translations can be legally required, for employee protection and safety reasons.

However, for most workplaces in Montreal, this kind of situation will probably not be a concern. 
Translation Montreal: Bilingual documents is necessary to have an inclusive business in Montreal.
I recommend providing documents in both French and English when operating and hiring in Montreal.
Providing documents in French is not negotiable, as it's legally required, and given that it's the language the majority of Quebec residents speak, doing so is just common sense. 
I would, however, recommend looking into a bilingual document strategy if you want your Montreal business to be an inclusive one.
Why?
Firstly, around 7.6% of Quebec's residents report that English is their native language. That is not a small number. And many of them live and work in Montreal. 
And in the case of allophones (someone whose first language isn't English or French) receiving documents in both languages can also go a long way. 
I am an allophone, and even though I speak both French and English in addition to my native language, German, my life is easier when I'm able to access information in both English and French. 
Reading information in both languages can help clear any doubts about content, meaning, and intent behind a document.
As we've seen further up, a whopping 28% of Montrealers are trilingual. Many of them are likely allophones with a native language that is not English nor French. 
I know many allophones who speak English and French in addition to their native language, and most of us agree that being in an environment that provides information in both French and English makes us feel more at ease. It also makes things a lot easier to understand. 
[Note: This is my lived experience, with no statistics to back up my suggestion.]
To promote inclusivity and diversity within your company, especially if it's located in a multilingual area and as it expands globally, getting all the necessary HR documents accurately translated should therefore be a top priority. 
You'll be able to keep the right talent in your company, and it'll let your employees know they are appreciated and valuable.
Translation Montreal: A word about bilingual employees.
At this point, you will have noticed how passionate I am about language, language diversity, and making bilingual or multilingual employees an appreciated part of your team.
A word of caution, though: Please do not make your bilingual employees translate your documents, unless this is part of their job description.
Just because someone speaks a language does not mean they are qualified to do translation work. 
In fact, making them translate your documents can put you on the bad side of diversity.
Below is an expert from a recent article about why translation work must not be added to an employee's workload without their consent, especially in a US context. 
"On average, Latinas in the U.S. are paid 46% less than white men and 26% less than white women, according to Lean In, and are also underpaid in comparison to their Asian, Black, and Native American peers.

[…]
When asking for translation work, you're adding to their workload without proper compensation (particularly since they're more likely, statistically, to already be underpaid)—a practice called "cultural taxation." Unfortunately, those who speak out on this practice may (and often do) endure bad outcomes, in particular being labeled as difficult or not team players. This makes setting the precedent of hiring professional translators that much more important. It not only allows a worker to do the work they were hired for (and at the rate hired), but it helps mitigate any resentment, bitterness, or unconscious bias."
Translation Montreal: Inclusive Business through language diversity—How to make it work
When hiring internationally, make sure to provide the relevant documents in the local language, even if it's not legally required.

When doing business in a diverse city, provide documents in the official language(s) and in other commonly spoken languages, as feasible.

Don't use your bilingual employees as translators if it isn't their job. Instead, work with a translator who is specialized in the documents you need translated.
If you are looking for a translator offering certified translation services in German, English, and French, I invite you to have a look at my services or contact me directly at translation@catherinediallo.com.
Interested in discussing your translation requirements?